Valid Until 31st December Only!
BE THE MEIJA FRIEND TODAY!
We are where we are today because of your support, and we want to give you more!
Starting from 1st October 2022, shopping with us will be a whole new rewarding experience.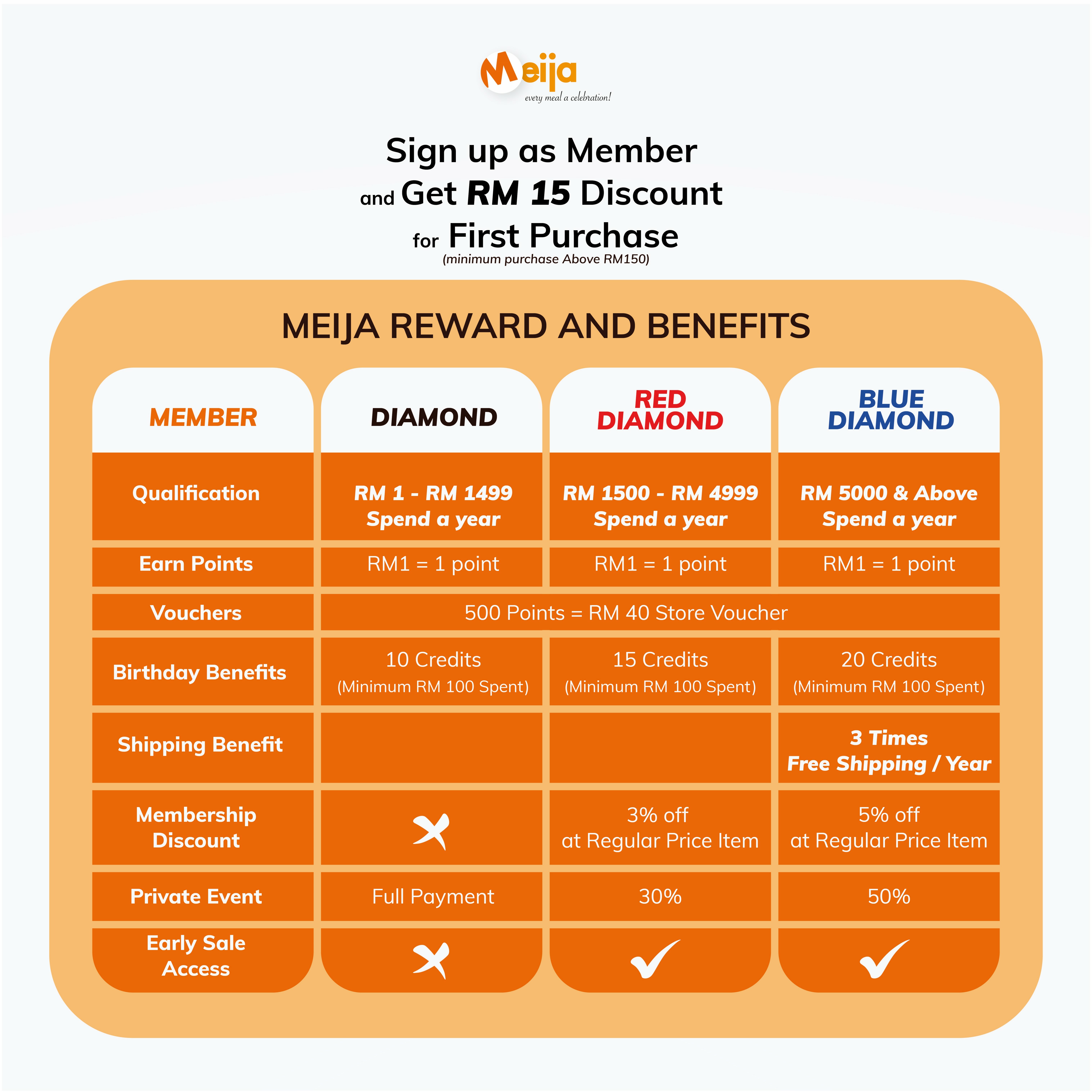 Let's get started with these easy steps:
1) Sign up for an account (It's Free) and you can enjoy a FIRST TIME Discount with RM 15
(minimum RM150 spend on Normal Price items).
2) Start shopping and earning rewards!
Get 1 point for every RM1 spent – it brings you closer to the next tier and earns a voucher for redemption.
3) To be upgraded to Red Diamond, spend RM1,500 within a year
Achieve Blue Diamond tier with RM5,000 in accumulated spending within a year.
*Birthday rewards will be credited into member accounts on the Actual Birthday Date, and valid for 30days starting from the Birthday Date. 
No reward will be given if the profile is not completed before the birthday month.
REWARDING POINTS
Points can be earned by making any direct purchases from www.meija.my and Meija Retail Store.

Points are based on the payable amount, excluding use of discount codes and store credits.

Points from different accounts cannot be combined and non-transferrable.

Points are strictly not exchangeable to cash or any other reward/discount.

Points used and redeemed will not be reinstated/refunded/credited back to your account
REDEEMING POINTS
Redeem your points at the checkout page.

You will see the available points could be redeemed during check out.

500 points = 40 Meija Voucher.

Points are strictly non-transferable and non-exchangeable for cash.

Points used are non-returnable and non-refundable.
HOW TO CHECK THE AVAILABLE OR USED POINTS?
Once you're logged in, Click "Profile" > "Member Points" 

You will see the "Points Balance".

Detail of reward points will be shown on table form.
TERMS & CONDITIONS
Your points and rewards cannot be transferred, brought, sold or in any way traded.

You can check your points and rewards on your online account. In case of any inconsistency between the membership points reflected in your account and our internal record, the latter shall prevail.

Points earned and/or redeemed will be updated on your online account within a reasonable period of your transaction. Unless otherwise indicated, points are earned on all purchases except discount codes and store credits.

In the event of any order cancellation or failure of delivery and return requested where parcel/item is returned to us, any points earned from the order will be debited and/or points of any voucher redeemed in the order will not be credited back to you.

For any defective or wrong item(s) that need to be returned and refund, any points earned from the order will be debited and/or points of any redeemed will be credited to your account (if applicable).

Rewards cannot be used in conjunction with other discount codes, promotions, or offers unless otherwise stated.

The program terms and conditions, structures, FAQs or any other descriptions of the program are subject to change at any time.
Membership Frequently Asked Questions
IS THERE A MINIMUM SPEND TO EARN REWARD POINTS?
NO! There is no minimum order requirement. You will earn reward points even if you are spending RM1 in a single order.
HOW TO CHECK MY STATUS TIER?
Once you have achieved the Membership Upgrade Settings, you will receive an email about membership upgrade notification. At the same time you can also check from your profile settings
.
WILL MY TIER STATUS BE DOWNGRADED ?
Once you have achieved a certain tier level, it will never expire.
WILL MY TIER BE DOWNGRADED WHEN I REDEEM POINTS?
Not at all. Redeeming your points would not affect your tier status. To maintain your tier status, you only need to meet an accumulated spend required for the tier.
ORDER COMPLETED BUT DID NOT EARN ANY POINTS!
Do not worry, just drop us a message with your member email and we will do our best to sort this out for you!